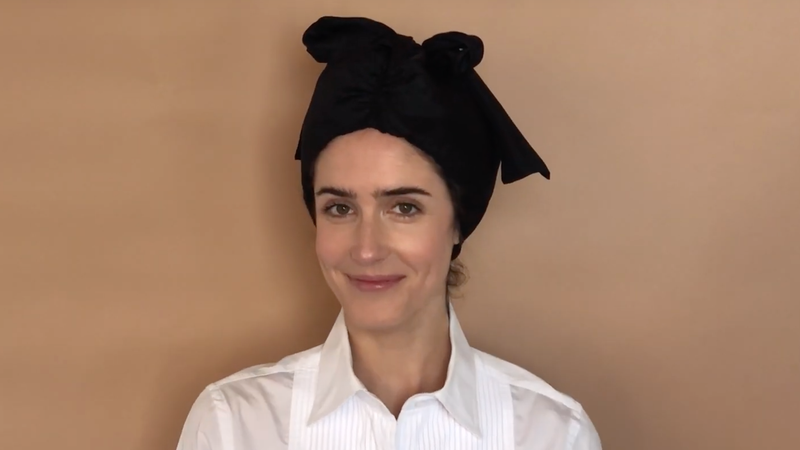 *Black women across social media came for a white female entrepreneur and accused her of cultural appropriation after claiming she invented a head wrap, which we know has been a traditional part of the culture for centuries.
NiteCap, a company founded by Sarah Marantz Lindenberg, has issued a response after being slammed for colonizing the silk hair bonnet and charging $98 for it, PEOPLE report. It's generally sold for about $1-$5 at beauty supply stores across the nation. The criticism grew after Lindenberg gave an interview to Fashion Magazine, in which she is praised as an innovator.
In the interview, Marantz Lindenberg said she came up with the bonnet idea while planning for her wedding.
"I was preparing for my wedding and like a lot of brides, wanted everything to be perfect. My skin was breaking out, and I have quite long hair," she said. "A dermatologist recommended that I sleep with my hair pulled back. Another physician recommended I try silk scarves and I had fun playing around with them, but they didn't stay on."
It has some of the same features as a silk pillowcase: prevents breakage and frizz, and preserves blowouts. https://t.co/3NZ3gp9JTR

— FASHION Magazine (@FashionCanada) July 20, 2019
She added that she was inspired by "the rich history of hair wrapping," but the article failed to reference to the hair bonnet's roots in black hair culture. Black Twitter noticed this slight, and came for NiteCap's head.
"What fresh hell is this white nonsense? Black women have done this since forever. There are products already in existence. But Becky discovered it like Columbus discovered America. #NotToday," a Twitter user said.
"Black Twitter, I think we can end this lady business. Tired of white people stealing/appropriating our culture and profiting off of it like they invented it! #NiteCap #SarahMarantz," another person added.
"Did I just read this right… A Caucasian "entrepreneur" invents a nitecap/bonnet and is selling it for $98… When I say I'm tiiiieeeedddd!," noted a third, via people.com. 
"My Grandmother, Mama, Sister, and all the black females in my communities have been wearing a NiteCap for years…$6.99 Walgreen or Target…$4.00 Beauty Supply Store…" one Twitter user wrote.
Another said: "This #NiteCap situation has me snickering. TL;DR: Some lady calls herself entrepreneuring SILK BONNETS FOR THE HAIR and is selling them for $100. Ma'am, we can get a bonnet for 2 or 3 bucks at the store down the street. We (black women) been had these for DECADES, sit down."
Amid the backlash, the company has issued an apology:
"NiteCap was developed because I was searching for a product that looked and performed exactly the way I wanted, for my personal use," company founder Sarah Marantz Lindenberg wrote on Instagram. "It was important [to] me that the product was produced locally in Canada and made from natural fabrics.‬ A small business grew quickly, but in the process, I failed to connect it back to the broader historical context.‬ ‭We stand with those who are hurt, and we respect and hear their voices. We're committed to honoring the historical significance of hair wrapping and this will now be part of our approach."