Joy villa was virtually unknown back in 2016, trying desperately to break into the music scene with her blend of alternative rock, soul and pop finely crafted into tunes that aim to motivate and inspire.  
But in order to make her mark in the music business, she had to make a bold move. Joy and her entourage came up with an idea that would surely grab the attention of the press and put her on the map. They opted  to interject the singer into the political conversation, although they knew that such a move could put an end to a burgeoning career. The plan was set; Joy was to appear at the 2017 Grammy Awards, but have the singer throw her full support for  newly elected president Donald Trump.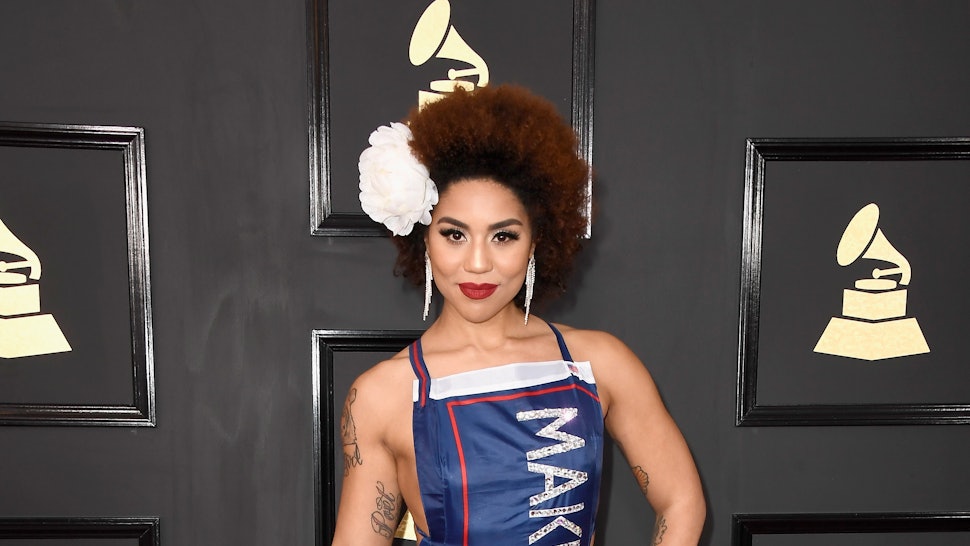 Joy Villa 2017 Grammys
The move was bold for sure. An Hispanic woman professing her support for a candidate who loves using immigrants as a punching bag, especially Mexicans. Joy must have been aware of her oxymoronic actions, because when confronted, she was quick to clarify that although she supports Trump as president, her goal of wearing a bright blue  "Make America Great Again" gown to the Grammys  was to bring people together. A very smart play of words, used almost as a fail safe,  just in case her publicity stunt should go array.
The backlash was swift from the president's detractors, but Joy received full support from his supporters, and  she had caused enough of a commotion to get people to notice her and her music. Her EP "I Make the Static" rocketed to the #1 spot on both iTunes and Amazon following her 2017 Grammys' appearance, beating out Beyoncé, Adele, and Lady Gaga, and landed her a #1 Album in Alternative, #1 in Rock, and a #12 spot on Billboards Top 200 Albums.
With the sky rocketing of her album, Joy doubled down on her choice of wearing that MAGA dress. That message of bringing people together was long gone. 
"Sometimes you just gotta be free to express yourself," she wrote. "Thank you to all of my supporters and fellow believers. Life is about living free and loving it. Be your beautiful selves tonight!"
Later she added: "Go big, or go home. You can either stand for what you believe or fall for what you don't. Above all make a choice for tolerance and love. Agree to disagree. See the person over the politics, carry yourself with dignity, always. Life is made to be lived, so go boldly and give no effs!"
All seemed to go well for Villa, until months later, when numbers for her so called album sales looked way off. Billboard, who tracks record sales through Nielsen Music, later fact checked the reports and ended up with inconclusive results. Villa's sales had increased, but the publication explained that it could be because of the controversy. After those first initial months, after the Grammys, the demand for her album had dropped considerably. One must also keep in mind that around that period, old tweets of Villa's, where the singer was calling Trump supporters idiots, and even throwing her support for Bernie Sanders, started to resurface. Maybe those revelations played a factor as well, because there was never a follow up album, another strong selling EP, performances on TV or even a  tour announced. Fans only got to see her on Fox News as a commentator (of all things)...
And a year later, after wearing her infamous MAGA dress, Joy dropped a bomb. She announced an exploratory committee for a congressional run for the state of Florida. 
I'm looking from everywhere from Jacksonville all the way down to Miami," Villa told Fox News. "Right now we are looking to all the areas. We are polling. We are seeing what's going to work. And hoping to scare some of those rhinos that are there to watch their back."
Villa, 31, had said in October that if she chose to run, she would advocate for the same policies President Trump supports.
"Have you looked at Congress lately? In the news, we see that they're getting nothing done. They are a house of cards that is tumbling. I mean, healthcare reform they couldn't get done. Immigration they can't get done. They are not working with the president, which means we need to put new people in, we need to vote fresh blood," Villa said Wednesday.
Villa added that White House senior adviser Ivanka Trump recently encouraged her to pursue a political office.
"I was at the White House the other night. And I got to see the president at the White House Christmas party. Ivanka actually pulled me aside and said, 'I really want you to run. We need more strong women to back up, you know, what America needs,'" Villa said. "So it's looking good. This congressional possibility is looking more and more like a reality. And I'm proud to dive into it."
If you thought the singer turned politician was out of left field, what happened next was even more shocking. Two months later, after her visit to the White House, she filed a police report against former Trump presidential campaign manager Corey Lewandowski, who she says sexually assaulted her at the Trump International Hotel in Washington.
At a party on November 28, Villa says Lewandowski slapped her bottom twice while posing for a picture, she told CNN Sunday. The incident was first reported by Politico.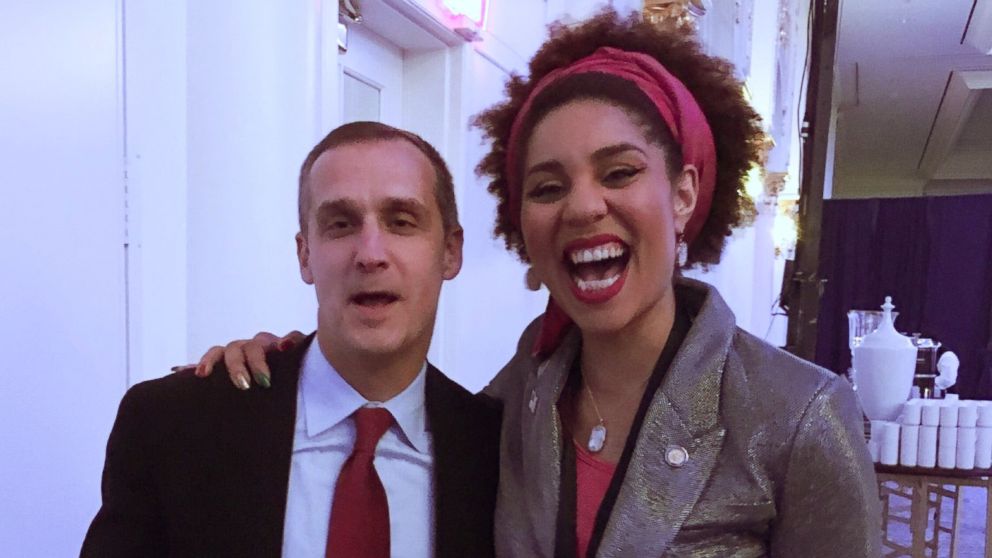 Lewandowski and Villa at the white House
 Miss Villa didn't run to her home of Fox news to tell the story first, it was CNN who got the pleasure of breaking the news. Needles to say, her attempt at getting into the president's inner circle would come to an end. And that's what she always feared. There were no more words of support coming from the president  via tweet, and no more flybys at the Fox studios. And as you may know by now, her so called run for a congressional seat in Florida went nowhere. 
So now, fast forward 2019, Joy Villa is back on the Grammys' red carpet, trying to recreate what gave her a boost back in 2017. This time, she is wearing what looks like a dress made out of bricks to represent the wall Donald J trump promises to build to keep us safe from the swarm of immigrants that threaten our country. Will Villa get it right this time, get back in the good graces of the president and be the darling of his supporters? Or will she be able to parlay this appearance into the musical stardom she set out to achieve to begin with?  The saga of Joy Villa continues. We'll see where it leads to.