Jon Voight was one of the few people selected by President Donald Trump to receive the National Medal of Arts — and he had a great time celebrating.
Voight, bluegrass musician Alison Krauss, philanthropist Sharon Percy Rockefeller and the musicians of the U.S. military were all honored Thursday during a ceremony at the White House. The National Medal of Arts is the highest award given to artists and arts patrons by the federal government. It recognizes their outstanding contributions to the excellence, growth, support and availability of the arts in the United States. The president called Voight an "actor and friend" and "one of America's greatest living legends in cinema."
"Each of today's recipients has made outstanding contributions to American society, culture and life. They exemplify the genius, talent and creativity of our exceptional nation," Trump declared according to The Hill, highlighting Voight's performances in films like Midnight Cowboy, Mission Impossible and The Champ — which he dubbed one of the best boxing movies in history.
"Everyone was crying at that movie. I tried not to, Jon. It wasn't easy," he noted. "We love having you here, especially because it's someone that I happen to really like."
The Oscar winning actor appeared jovial, dancing on the makeshift stage to the theme of Midnight Cowboy.
In case you missed it, here's Jon Voight dancing in the East Room. pic.twitter.com/2z2C8CVVHj

— Maegan Vazquez (@maeganvaz) November 21, 2019
Trump hailed Voight as a "beloved icon."
"You are an amazing icon and a beloved icon," says @POTUS of @jonvoight, adding the actor is "somebody I really like." pic.twitter.com/3CryuijEkL

— Steve Herman (@W7VOA) November 21, 2019
Deadline reports Voight's son James Haven was in attendance at the ceremony, but daughter Angelina Jolie was not spotted. Although the Maleficent actress appears to have made amends with her father in recent years their politics do not align. The 80-year-old actor is one of the president's most prominent and vocal supporters in Hollywood.
In an interview before with DailyMail.com, Voight said he'd be "very humbled by the attention" the ceremony would generate.
"I guarantee you that I'll be very moved to be in that room, to be in the room with a history of that room and this house, and to be given this medal by the hand of this great president," he said. "I'll be very moved."
The Ray Donovan star also slammed the Democratic Party.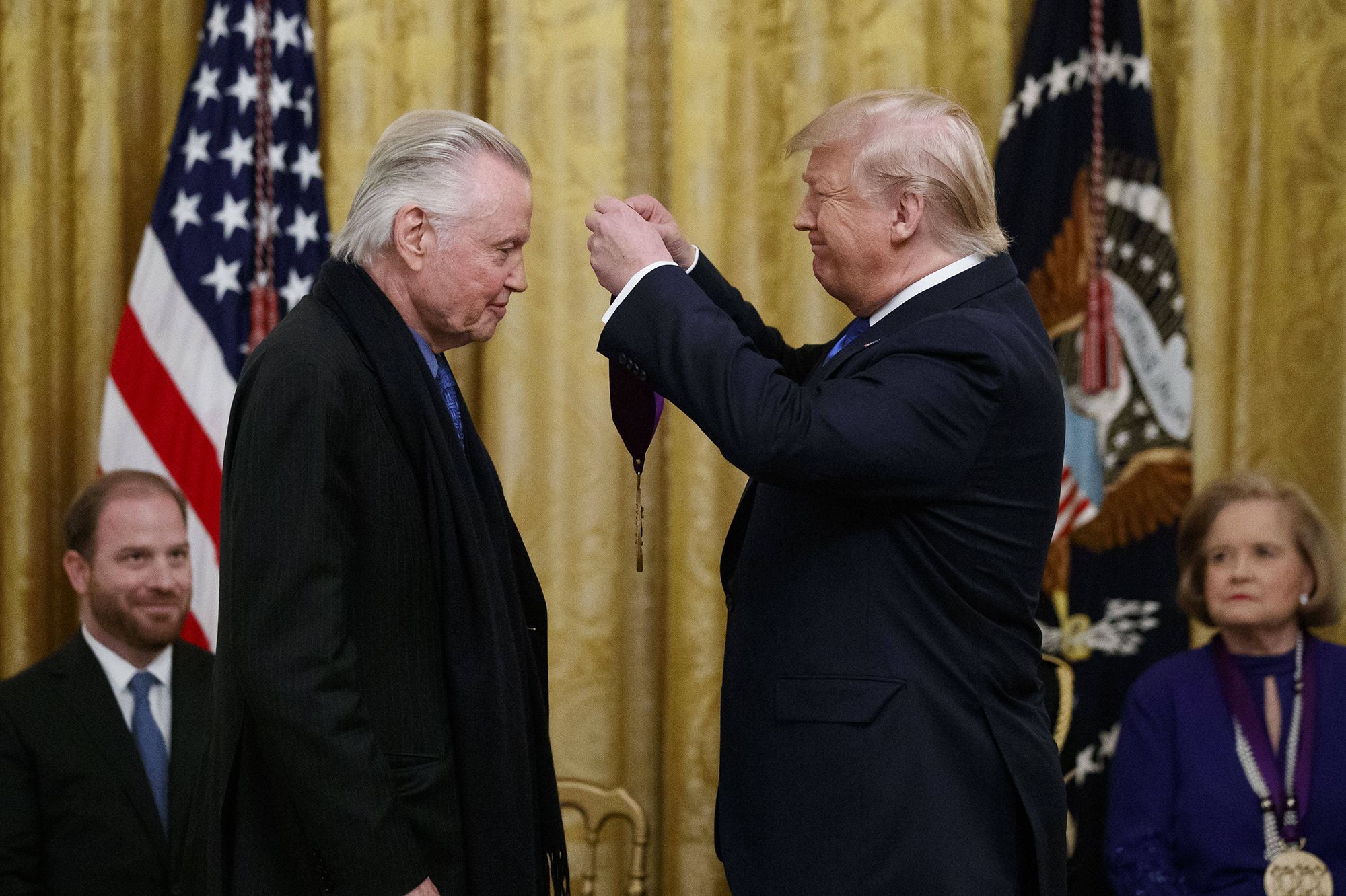 "The Democratic Party's been undermined, overtaken by Marxists, and, you know, and atheists," Voight added. "They took God out of their platform. Can you imagine that?" (He's referring to the 2012 controversy regarding the Democrats convention platform.)
Voight dismissed the notion he was being recognized by President Trump because he's an actor who shares his conservative views.
"Anybody who would ask that question of me," he replied, "I would say I think that they don't know my work. I would say take a look at my work and see what you think. Do you think they should be honoring me?"