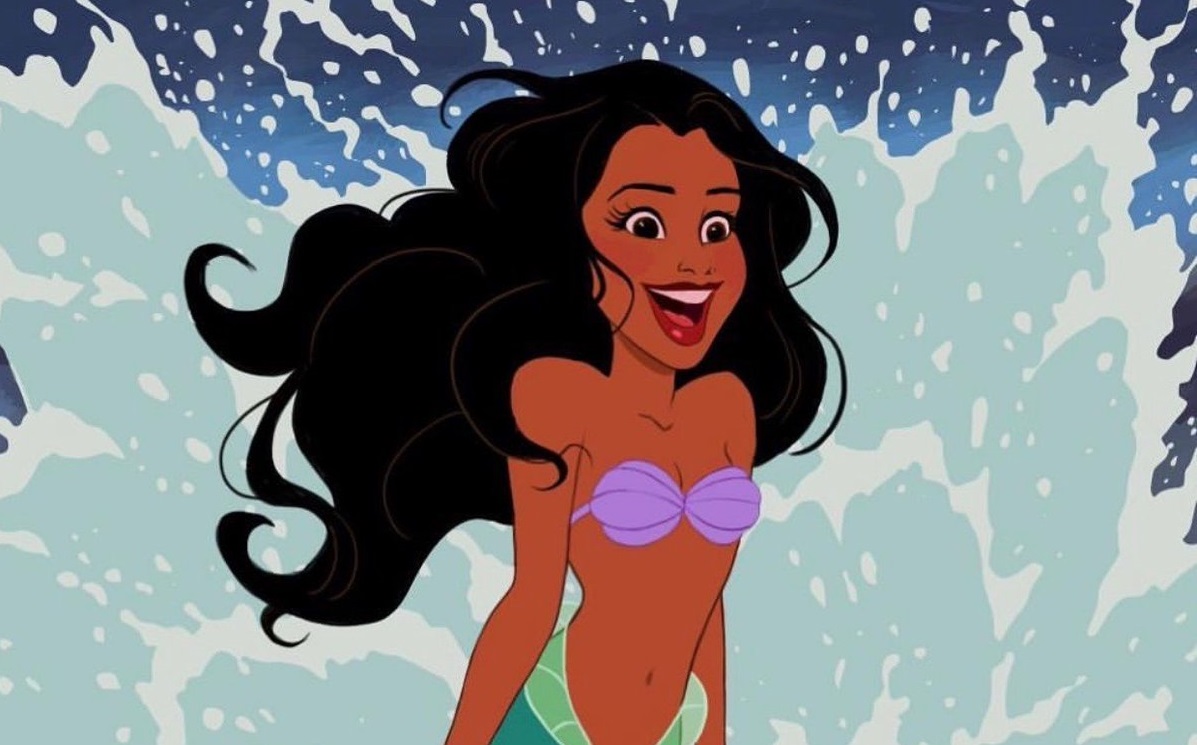 Imagine being a full grown adult and getting mad that a kids' movie isn't being cast the way you want. You'd have to be insane, right? Or just insanely racist. And the controversy surrounding Disney's upcoming remake of "The Little Mermaid" is exactly that.
Disney just announced that Halle Bailey of the singing group Chloe x Halle will play Ariel in a live-action remake of "The Little Mermaid."
Just Announced: Halle Bailey has been cast in the upcoming live-action reimagining of The Little Mermaid. pic.twitter.com/GAUydbkfMV

— Walt Disney Studios (@DisneyStudios) July 3, 2019
I mean, have you ever in your life seen someone who looks more like a live-action version of a Disney Princess??
She's also Beyoncé's protegée and has been hard at work on her singing career since she was a child, so she's clearly got the goods.
Still, some people are whining because Halle is Black and the cartoon version of Ariel from 1989 was white-skinned with red hair (and a green tail, because she's a mermaid, and mermaids aren't real and do not belong to any one specific race).
Thanks for ruining my favorite Disney Classic 😭💔 not fair!!!! I was waiting for this movie so bad and not only me, all of the fans 😰 ..She's beautiful although I don't know her, but she doesn't look physically like ARIEL!!! Please don't mess with the most beautiful classic 🤬

— 𝓖𝒆𝒓𝒂𝒓𝒅 ★ (@GerardMannequin) July 3, 2019
Trolls are attempting to mask their racism with statements like "she doesn't look physically like Ariel," which, again, is insane because Ariel is not a real person you guys. She is a half-fish-half-girl who someone drew in a picture once.
Oh, and, small detail: white people get cast as actual people of color — not fantasy figures who were once drawn as white, but actual people — all the time.
for YEARS white people have played Indians, Egyptians and historic black figures in movies & television

but a black girl playing a FICTIONAL MERMAID is what y'all have a problem with? tf outta here

let me give you some examples

— Alex Thomas-Smith (@AlexThomasSmith) July 4, 2019
Suddenly all of Twitter has opinions on what mermaids are supposed to look like.
#FilmTwitter, arguing about what a mermaid should look like. pic.twitter.com/oF7D1VF6wL

— Harris Dang (@FilmMomatic) July 4, 2019
Yes, grown adults are arguing that mermaids need to look a certain way.
It's funny seeing all these people about Ariel being black, just wait until they find out that mermaids aren't real

— Callum 🤙 (@CJAGranger) July 4, 2019