Forever 21's "Fake News" bike shorts have sparked mixed reviews on Twitter – with many praising and criticizing the brand's move.
The graphic shorts play on the controversial catchphrase, which gained steam over the last handful of years.
Though the phrase has been attributed as originating in different places, the "Fake News" cry gained popularity during the 2016 election and has held strong since – not just with politicians, but on social media, as well.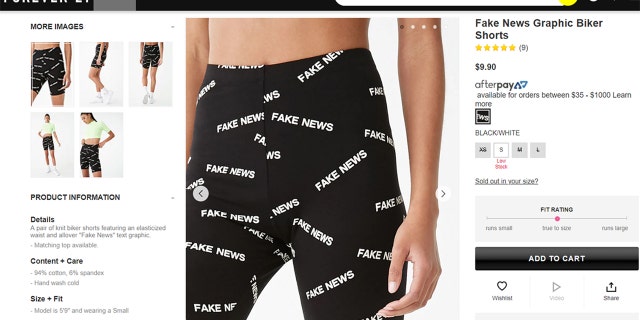 "The reason I don't like the phrase now is it's used as a term to describe everything," said Clare Wardle of First Draft News, a fact-checking non-profit, in a 2018 BBC article about "Fake News." "Whether it's a sponsored post, an ad, a visual meme, a bot on Twitter, a rumor - people just use it against any information they don't like."
Despite where the term came from, it is used ubiquitously in America, and has obviously gained immense popularity as the shorts have been sold out on the Forever 21 website.
Forever21 has a biking shorts out called "Fake News" and progressives aren't happy. https://t.co/CCoKao4dJZ

— Chirantan (@DiaQueri) July 23, 2019
Aww, they're already completely sold out in ALL SIZES!! Be sure to log on and request notification when your size becomes available again. @Forever21 your Fake News Biker Shorts rock! But they're all sold out...bring back more, please!!! https://t.co/tHBZXQxFwe pic.twitter.com/IlSLjFNu30

— askAuntP (@ask_auntp) July 23, 2019
I just ordered a pair to go with my "fake news" tank top

— ___Kim___⭐️⭐️⭐️ (@PatriotKimUSAsd) July 23, 2019
However, this popularity has not stopped backlash about the implications of the phrase.
Oh, no! This is terrible.

— Pamela Wood (@pwoodreporter) July 23, 2019
This is not funny, cute or fashionable, @Forever21. Why are you selling this product? https://t.co/cXs0NeOMfD

— Pamela Wood (@pwoodreporter) July 23, 2019
Turns out, all you need to express your hatred for journalists in clothing form is $9.90, to be given to @Forever21! Wow, so affordable! pic.twitter.com/MrcYGjgCoz

— Katherine Fominykh (@katfominykh) July 22, 2019