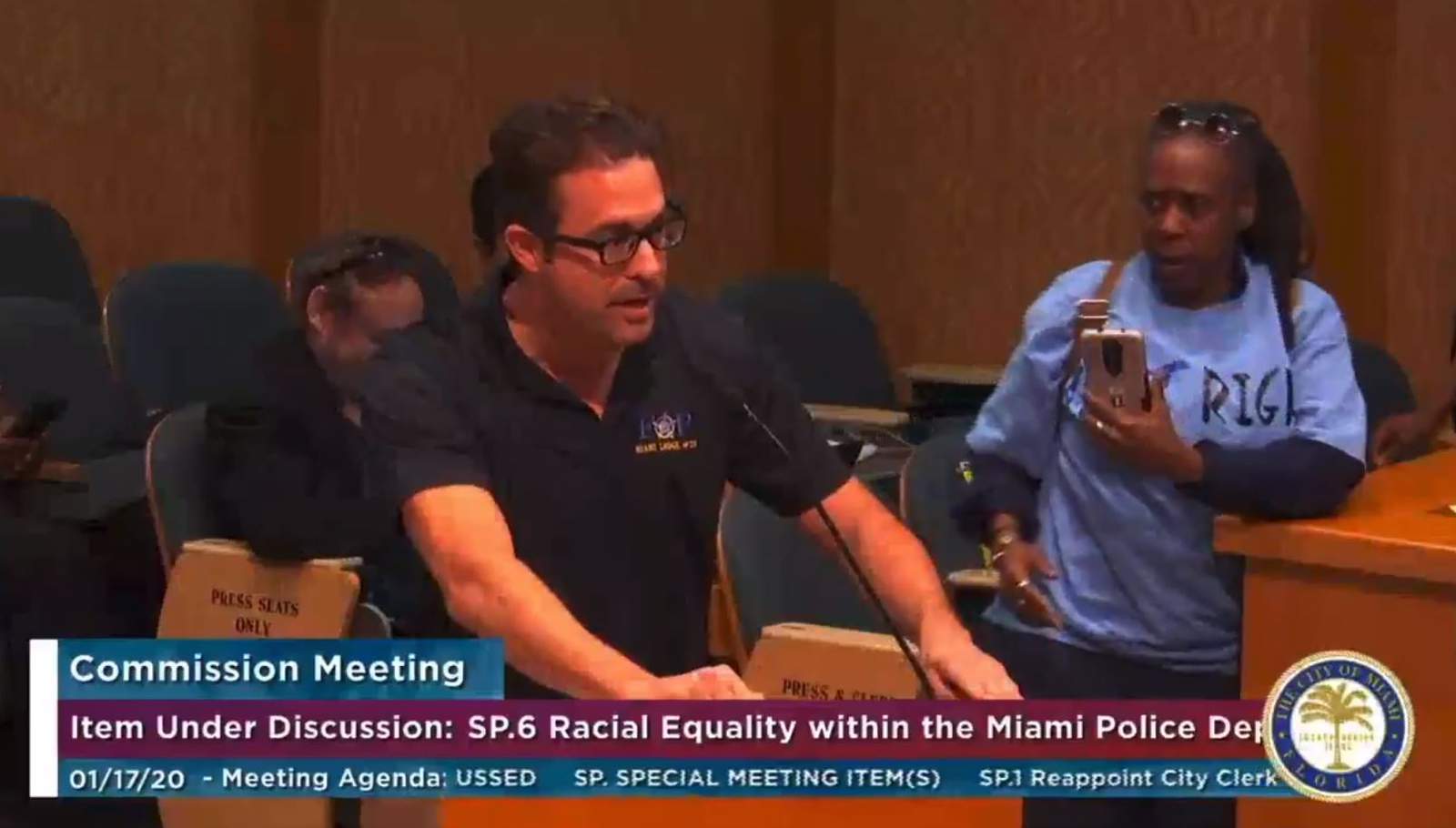 A Miami police officer who has a long history of making racist comments is claiming that he is Black, not Hispanic.
According to the Miami New Times, Javier Ortiz stood in front of the city commission last week and defended his belief during a discussion about racial equality within the Miami Police Department.
"I'm a Black male," he said. "Yes, I am. And I am not Hispanic. I was born in this country. That's how I feel."
Ortiz stumbled when the commission asked him about how he classified himself when he applied for the police department.
"I think I put white male," he said. "Well, I know I put white male, but I don't know if I put Hispanic. Listen I know who I am."
#BREAKING: @MiamiPD Capt. @OrtizFOP tells city commission "I am a black male" after he was caught lying about his race on 2014 lieutenant's exam and 2017 captain's application — his original MPD application says he's white Hispanic #BecauseMiami pic.twitter.com/meaJ2mlQGn

— Billy Corben (@BillyCorben) January 17, 2020
The officer briefly stopped in his tracks after the commission confirmed that he listed himself as Hispanic.
"OK, as a man I stand by it," he said.But it was only a matter of time before Ortiz started digging up some family history to explain why he thinks he's Black."I learned that there are people in my family that are mixed and that are Black," he said.
Commissioner Keon Hardemon, who is Black, followed up by saying "let's not talk about the degree of blackness."The officer responded by making another eye-rolling statement."Oh no, you're blacker than me," Ortiz said. "That's obvious."
One resident came closer to the podium and recorded the officer on video as he gave the commission a history lesson on the one-drop rule.
 "And if you know anything about the one-drop rule which started in the 20th century — which is what identifies what a Black male is or a Negro — you would know that if you have one drop of Black in you, you are considered Black," Ortiz said.
Before finishing his time on the podium, the officer declared himself as a victim.
"I'm being attacked," he said. "Half of my family is Jewish. You probably didn't know that either." 
Commissioner Joe Carollo ended the conversation with one last sarcastic jab at the alleged victim. "Mr. Ortiz claimed that he was, uh, Black — now I hear he's Jewish-Black," Carollo said. "I'm afraid maybe next month he'd be a Black Jewish woman. I don't know."
Rubin Roberts, chairman of the NAACP's Miami-Dade branch, told The Miami Herald that Ortiz should be fired.
"The city should be made aware that the statement he made is incendiary," Roberts said. "He's not in any way considerate of Black men or women's plight."
In addition to calling 12-year-old Tamir Rice a "thug" after he became a victim of police brutality, the officer also went after Beyoncé, telling police unions to boycott her Super Bowl performance four years ago because she was sending an anti-police message.
 According to The Miami Herald, Ortiz was suspended in 2016 for harassing a woman who videotaped a cop giving her a ticket. He also shamed a female Muslim Miami police officer for not covering her heart during the Pledge of Allegiance, The Herald reported.