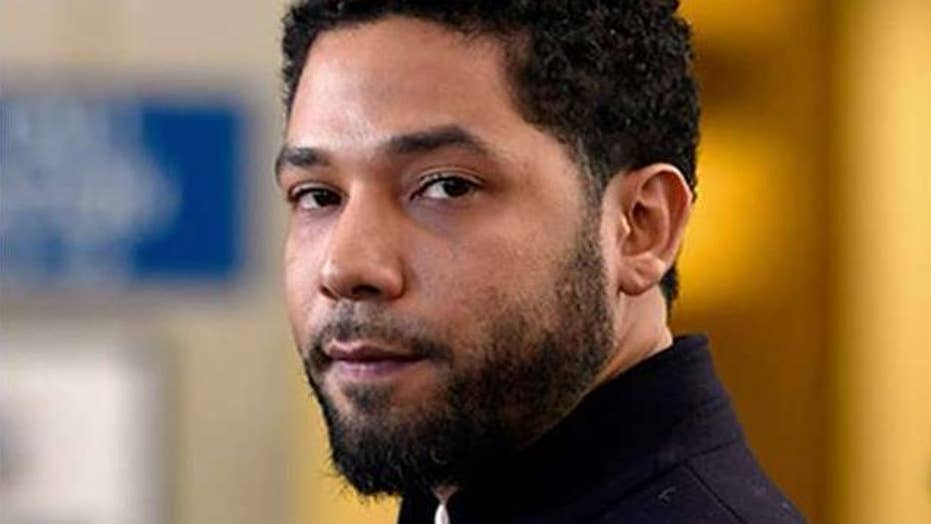 The Chicago Police Department on Thursday released a batch of documents from the investigation into actor Jussie Smollett's claim that he was the victim of a racist and homophobic attack in January.
The newly released documents include over 450 pages of case reports, arrest files and supplementary files, Chicago Police spokesman Anthony Guglielmi said in a statement to HuffPost.
"Next we will begin working on redaction for supplementary materials including hand written detective notes, subpoena records and ancillary material," Guglielmi said in his statement. "There are approximately 300+ pages of documents and we hope to have that by this time next week."
The final release will be pertinent video files that require a heavy amount of digital redaction for things like license plates of unrelated vehicles and the blurring of faces of individuals not involved in the criminal investigation," he added. "We hope to have that completed by the week after next."
A Chicago court ruled earlier this month that the criminal case against the "Empire" actor be unsealed, two months after prosecutors abruptly dropped charges that accused Smollett of staging the attack and lying to officials.
The documents were released Thursday in three batches that include case files, arrest records and a supplemental police report. The documents include information from when police located and interviewed Ola and Abel Osundairo, who said they were paid by Smollett to plan and carry out the attack. One of the Osundairo brothers confirmed to police that a hot sauce bottle recovered at the scene of the attack was the one he filled with bleach and allegedly poured on Smollett.
Some nuggets in this #JussieSmollett document dump: Smollett told only Ola Osundairo to punch him because he didn't trust the other brother to pull his punches, according to one report. During the staged attack, Ola rubbed his knuckles in Smollett's face to try to bruise him.

— Jason Meisner (@jmetr22b) May 30, 2019
That interview was Feb. 13, a day before the actor went on "Good Morning America" to voice his concerns about the investigation. The "GMA" appearance was the same day as Smollett's interview with detectives, in which the actor's story began to stray from his original story to police.
Jussie Smollett's story strays from his initial account of the alleged Jan. 29 attack when he's interviewed by detectives on Feb. 14. pic.twitter.com/CbVoEQ8UVM

— Hayley Miller (@hayleymiller01) May 30, 2019
According to the report, Smollett told police in his original account that the alleged attackers yelled, "This is MAGA country," among other racist and homophobic slurs. He also alleged they put a rope around his neck, which is how police found him in his hotel room.
Days after Smollett talked with detectives, Chicago Police said their investigation shifted to focus on Smollett as the suspect, accusing him of lying about his role in the attack to police.
According to the report, Smollett's attorney advised him to not look at a photo array, which included photos of the Osundairo brothers, that police were using to try to identify his attackers. Smollett did eventually participate in a photo array that included the brothers, and denied they were the alleged offenders.
Cook County State's Attorney Kim Foxx reportedly told Chicago Police that Smollett's case would be settled without going to trial in exchange for an admission of guilt, $10,000 and community service. That conversation happened on Feb. 28, the same day Smollett was indicted with 16 counts of disorderly conduct for allegedly lying to police about a hate crime.
Foxx actually went public with dropping all charges against Smollett on March 26, but without an admission of guilt ― something Chicago Police Superintendent Eddie Johnson said at the time he was not warned of.
Smollett has maintained his innocence, though Johnson and First Assistant Cook County State's Attorney Joseph Magats, the prosecutor who dismissed the charges, have said they believe he is guilty.
Magats said he dropped the charges despite believing Smollett was guilty because his office prioritizes violent crime and he doesn't "see Jussie Smollett as a threat to public safety."
Fox Entertainment announced in April that Smollett would not return for the next season of "Empire." His character was removed from the final two episodes of Season 5.
View the documents from the Chicago Police investigation below:
This article has been updated with more details from the documents.