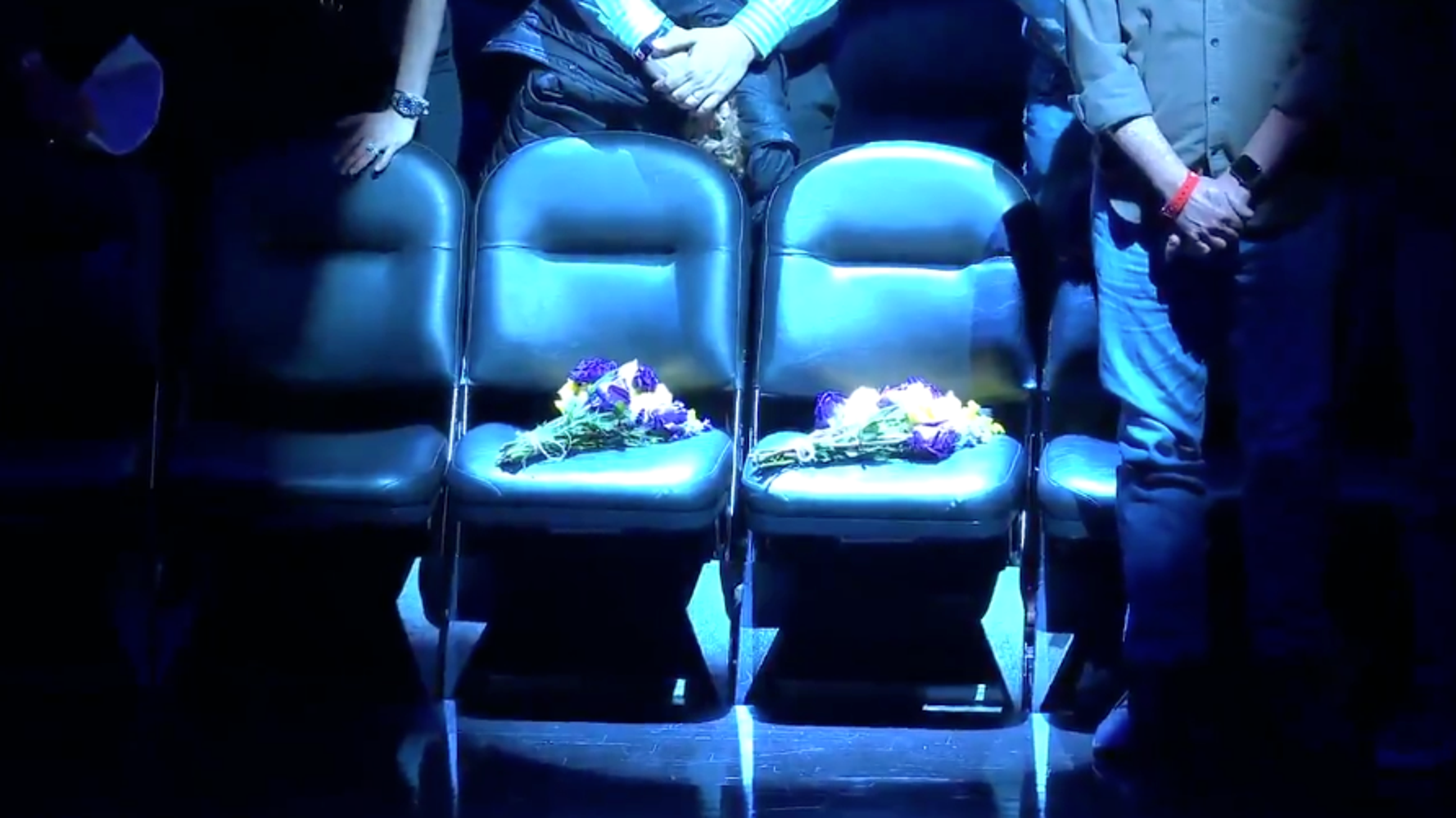 The Brooklyn Nets paid homage to NBA legend Kobe Bryant and his daughter Gianna on Wednesday, leaving empty the two courtside seats the pair were seen in during a game late last year. The two were among those killed in a helicopter crash in Calabasas, California, on Sunday.
Before the game against the Detroit Pistons at the Barclays Center, a video highlighted the life and legacy of the former Los Angeles Laker. 
In addition to showing clips of the 41-year-old's illustrious career, the video featured snapshots of Bryant and Gianna together and the names of the seven others who died in the crash.
The Brooklyn Nets pay tribute to Kobe Bryant, his daughter Gianna, and all of the lives lost on Sunday. pic.twitter.com/NedVruBIWg

— NBA (@NBA) January 30, 2020
After the announcer read the names of those who were killed, two empty courtside seats with purple and yellow flowers on them were shown under a spotlight.
The seats were the same ones the father and daughter duo sat in while watching the Nets play the Atlanta Hawks in December. 
A now-viral video from that game shows Bryant animatedly explaining to Gianna what's happening in the game.
Members of the NBA have shown an outpouring of support to the Bryant family and others since the tragic crash. Commissioner Adam Silver said in an emotional statement earlier this week that the "NBA family is devastated by the tragic passing" of Bryant and his daughter. 
"For 20 seasons, Kobe showed us what is possible when remarkable talent blends with an absolute devotion to winning," Silver said in a statement. "He was one of the most extraordinary players in the history of our game. ... But he will be remembered most for inspiring people around the world to pick up a basketball and compete to the very best of their ability. He was generous with the wisdom he acquired and saw it as his mission to share it with future generations of players, taking special delight in passing down his love of the game to Gianna."
Bryant entered the league in 1996, right after he graduated from high school, and played for the Lakers for 20 seasons.
A five-time NBA champion, he helped the Lakers win titles in 2000, 2001, 2002, 2009 and 2010. Bryant was named league MVP in 2008 and also won two Olympic gold medals for men's basketball. He retired in 2016.