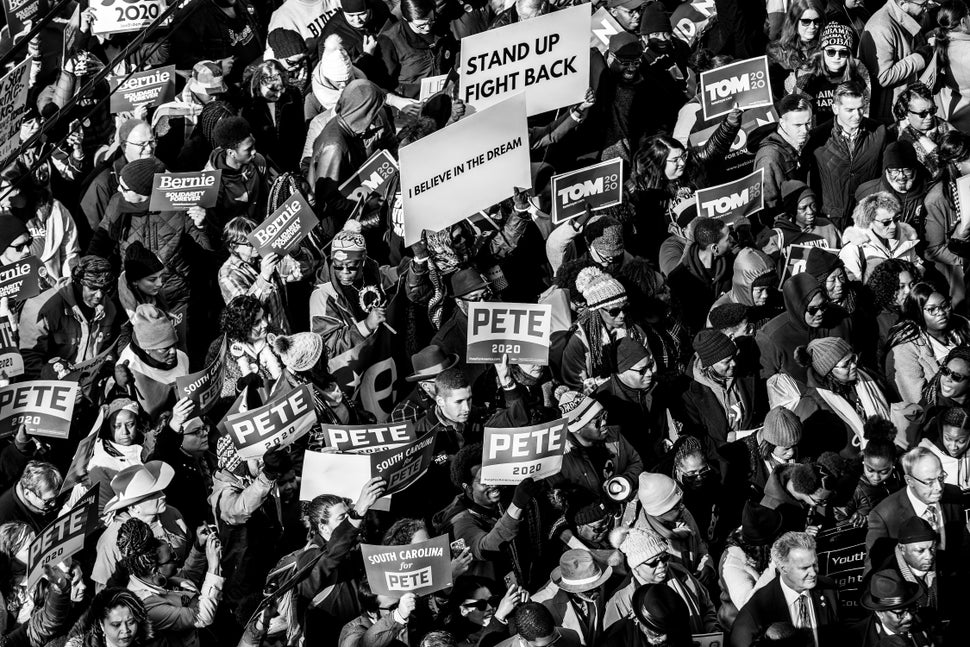 On Martin Luther King Jr. Day, a majority of the Democratic presidential candidates were on the steps of the Statehouse awkwardly stumbling through the words of "Lift Every Voice and Sing," the Black national anthem.
Sen. Elizabeth Warren (D-Mass.), Sen. Amy Klobuchar (D-Minn.), Rep. Tulsi Gabbard (D-Hawaii) and former Massachusetts Gov. Deval Patrick sang the words they knew. Former Vice President Joe Biden and Sen. Bernie Sanders (I-Vt.) kept their lips sealed yet nodded along. Billionaire Tom Steyer enthusiastically belted a majority of the words, stumbling and playing it off a few times.
On this unusually cold morning in Columbia, a multigenerational, largely Black crowd listened, restlessly at times, as the candidates tried to win them over.
Sanders reminded them of his stance on President Donald Trump's foreign policy and King's opposition to the Vietnam War. Steyer, standing with a group of Black campaign workers, said he may not be able to feel Black Americans' pain but is with them in the fight for equality. Gabbard evoked South Carolina civil rights activist Septima Clark and vowed to carry the torch she did. Patrick, the only Black candidate in the race at that time, who has since dropped out, rattled on for a 16-minute sermon to a crowd that had mostly dispersed after the front-runners delivered their remarks.
On Feb. 29, South Carolina voters head to the polls to vote in the state's primary election. In presidential races, candidates often look to the Palmetto State as an indicator of how strong their support among Black voters ranks nationally. It's an important demographic in a key state. But often, Black voters are clumped into one monolithic group by candidates and the media without an accurate representation of the many perspectives within the community.
Bobby Donaldson, a professor of African American history and the director for the Center for Civil Rights History and Research at the University of South Carolina, said candidates have been missing the mark with Black voters because they forget one crucial step: to listen.
"There are many demographics of Black voters," he said. "There are multiple Black needs and if you're going to develop a strategy to appeal to people of color you have to recognize there are multiple boxes to check."
For example, when 22-year-old Benedict College student Faith Dupree goes to the ballot box, her most pressing concerns are the Black maternity mortality crisis and voter suppression. But 18-year-old Mykel King, a first-time voter and student at the same college, is most concerned about prison reform, climate change and student loan debt.
Sheila Albergottie, a 64-year-old educator originally from St. Louis, has child care, health care and the student loan debt crisis on the top of her mind. These three Columbia residents are a small sample of Black voters, and they show how Black communities can have backgrounds, beliefs and political values that differ and often overlap.
Ahead of the South Carolina primary, HuffPost spoke to dozens of Black residents of Columbia to explore what it means to be a Black voter today.