The Centers for Disease Control and Prevention is now recommending that all Americans wear homemade face coverings in public to help stem the spread of coronavirus.
But Trevon Logan, an economics professor at Ohio State University, will not be following this guidance.
"We have a lot of examples of the presumed criminality of black men in general," Logan, who is black, told CNN. "And then we have the advice to go out in public in something that ... can certainly be read as being criminal or nefarious, particularly when applied to black men."
Logan is not alone in his concerns. On social media and in interviews with CNN, a number of people of color — activists, academics and ordinary Americans — expressed fears that homemade masks could exacerbate racial profiling and place blacks and Latinos in danger.
"I don't feel safe wearing a handkerchief or something else that isn't CLEARLY a protective mask covering my face to the store because I am a Black man living in this world," tweeted Aaron Thomas, an educator in Columbus, Ohio. "I want to stay alive but I also want to stay alive."
His tweet has more than 121,000 likes.
The CDC's recommendation on do-it-yourself face masks comes as the skyrocketing number of coronavirus cases and shortages of medical supplies have made professional-grade surgical masks all but unavailable to most Americans.
In an interview with CNN, Logan acknowledged that during a pandemic it makes sense to ask people to protect their faces in any way possible.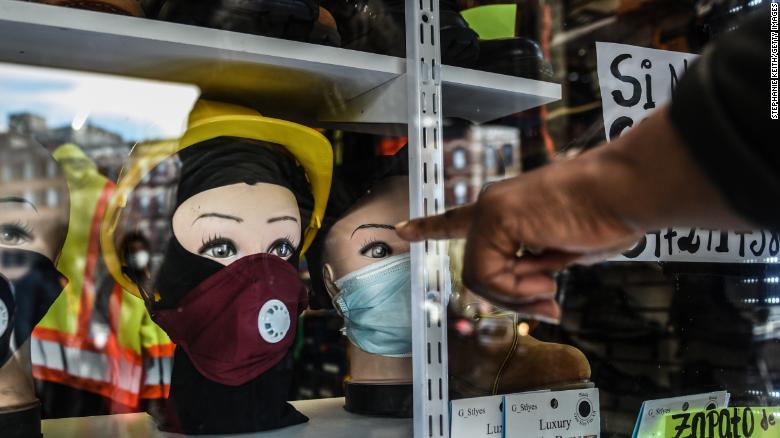 But it also makes sense not to wear them if you're a person of color, he added.
"This (wearing a homemade mask) seems like a reasonable response unless you just sort of take American society out of it. When you can't do that, you're basically telling people to look dangerous given racial stereotypes that are out there," Logan said.
"This is in the larger context of black men fitting the description of a suspect who has a hood on, who has a face covering on," he added. "It looks like almost every criminal sketch of any garden-variety black suspect."
What bandanas and other attire can mean for people of color in America
In the US, criminal justice and fashion have sometimes made for a deadly combination.
Bandanas, particularly in certain colors, are often associated with gang affiliation and violence, said Cyntoria Johnson, an assistant professor in the Department of Criminal Justice and Criminology at Georgia State University.
The Bloods and Crips street gangs of California have used colorful bandanas or rags as a system of identification, according to the Los Angeles Police Department. The LAPD also describes the "uniform of Hispanic gangs" as including "a bandana tied around the forehead similar to a sweatband."
"People of color have to make conscious decisions every day about the way they show up in the world and are perceived by others, especially the police," Johnson said.
Racial profiling by law enforcement in the US has been documented by studies like the Stanford Open Policing Project, which examined 100 million traffic and pedestrian stops from 2011 to 2017 and found that officers generally stopped blacks at higher rates than whites. In recent years high-profile police shootings of black men have also raised fears of law enforcement among African Americans.