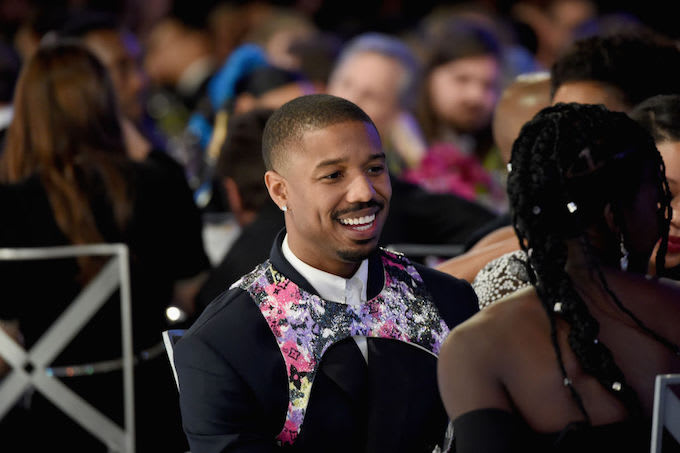 Everyone seems to be searching high and low for any details surrounding the Black Panther sequel, and Angela Bassett's husband may have just added to the speculation. 
At Sunday's 2019 Screen Actors Guild Awards, Bassett and husband Courtney B. Vance were one of the many celebrity couples working the red carpet. The interviewer, Entertainment Tonight's Nischelle Turner, started out soft, asking Bassett what makes Black Panther such an important film, which prompted the actress to delve into the production quality and the movie's positive reception. 
However, when asked about whether the original cast would return for a possible sequel, Bassett tip-toed around the question, responding, "I would assume so." However, Vance then encouraged his wife to spill the deets. "Yes, just go ahead and say it, yes! Everyone will be there, including Michael B." Despite Jordan's character Killmonger seemingly dying at the end of the first film, Bassett notes that viewers didn't actually see him fall into the water. "[We didn't technically see him] go into the ocean, no," she says. 
Bassett then side-eyed award shows at large, for failing to give credit where credit is due, despite the movie's Oscar nod for Best Picture. "A movie of this style, it has a hard time. It's accepted by the audiences, of course it's a global sensation, all of that, but the award [shows] tend to push them to the side," she explained. "But it's such a well-crafted, well-made, beautiful story — big moments, big themes, and I think it's so utterly worthy."
Previous whispers surrounding 
Black Panther 2 
have included a 
false Donald Glover rumor
 as well as Michael B. Jordan claiming that 
a sequel
 is likely because let's be honest, "it's Marvel." Jordan actually 
addressed
 the sequel—which will be directed by Ryan Coogler—at Sunday's SAG awards. "Sequels, I think, are one of the hardest films to make, and I feel like to create a world and build upon it that's so beautifully and delicately woven into the world of the Marvel Universe — but throughout cinema in general, you take Marvel out of it, I think it's a movie that stands against all film across the board," he said. "So yeah, I think if there was an opportunity, I think everybody would be pretty excited to come back around."