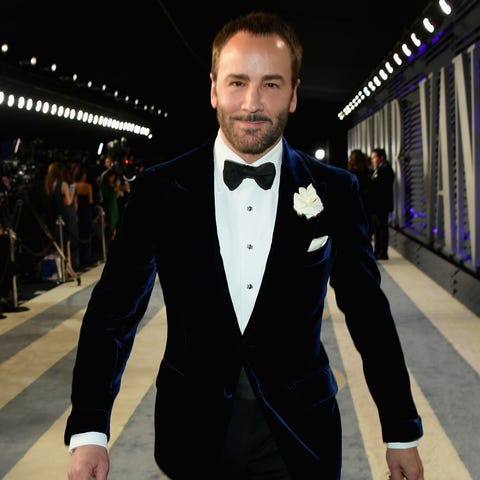 Tom Ford is trending on Twitter for allegedly refusing to dress Melania Trump — except he never said the quote that was attributed to him in a now-viral tweet about the first lady.
"Who likes Tom Ford? Tom Ford refuses to dress Melania Trump: "I have no interest in dressing a glorified escort who steals speeches and has bad taste in men," reads a since-deleted tweet posted by Twitter user @fras99. (Bossip captured it for posterity.)
This isn't the first time this quote has been falsely attributed to Ford. In 2016, less than a month after Donald Trump won the presidential election, a different Twitter user posted a doctored Daily Mail headline with the same claim.
A spokesperson for Ford denied he ever said the quote. "This is an absolutely fabricated and completely fake quote attributed to Mr. Ford that has somehow gone viral," the spokesperson said. "Mr. Ford did not make this statement; it is completely false."
But as The Fashion Law notes, Ford, who is a Democrat and voted for Hillary Clinton in 2016, has made headlines for refusing to dress Melania in the past — not because of plagiarism or sex work allegations. During a 2016 episode of The View, Ford said he had been asked to dress Melania years before her husband considered running for office but declined.
"She's not necessarily my image," he said, adding that he wouldn't dress her now, either, since his clothing isn't a good fit for public servants who want to look relatable. "Even had Hillary won, she shouldn't be wearing my clothes," he said. "They're too expensive." (Melania, for her part, hasn't eschewed expensive clothing in an attempt to look down-to-earth. In 2017, she made headlines for wearing a $51,500 coat during the G7 Summit in Italy. The following year, she wore a Chanel couture gown to a White House state dinner for French president Emmanuel Macron.)
In other words, there is a kernel of truth in the made-up quote about Ford refusing to dress Melania, and that's what makes it so dangerous. This kind of misinformation is "a clear demonstration of how swiftly and widely" so-called "fake news" can spread on social media, The Fashion Law writes.
Ford debunked the quote himself in an interview with Women's Wear Daily. "Never! Never, ever, ever, have I said that Melania was an escort," he told the site, adding that his comments on The View were a reference to the cost of the clothing he makes and had nothing to do with Melania herself. "I dressed Michelle Obama once and once only when she was in England for a white-tie dinner party with the Queen and I was living in London, and that was different. That's all I said. I've never said anything derogatory about Melania. I never would say anything derogatory. It's so weird, isn't it, in today's world the way someone out of nowhere can just make up a random quote and start circulating it on the internet?"
If Ford had made pro-Melania — or even Melania-neutral — statements in the past, it's possible the fake quote would've never gone viral. At the very least, it would have been easier to debunk.