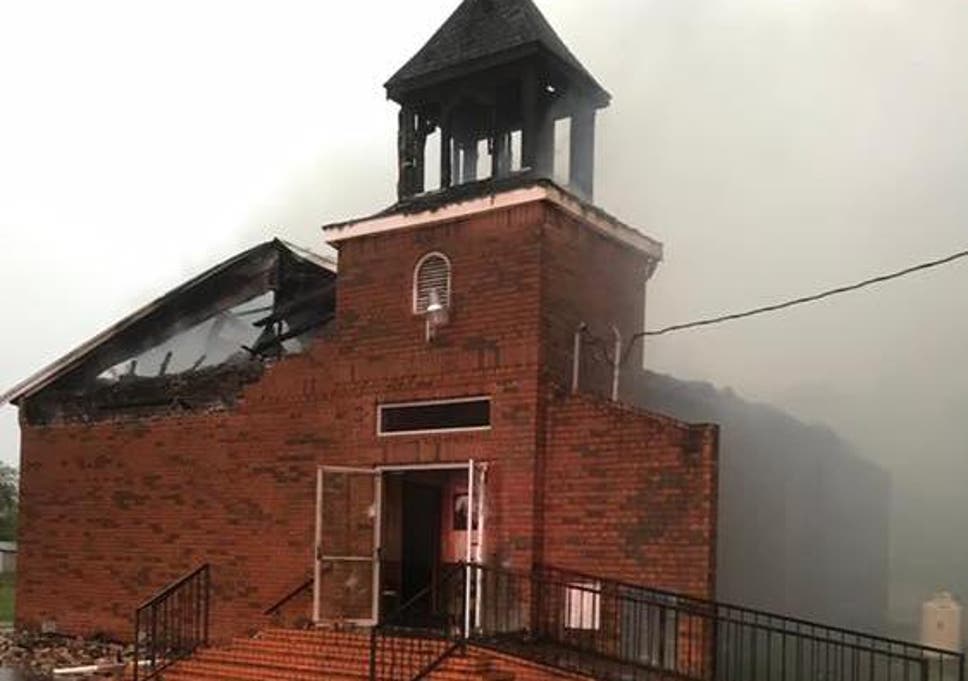 Three historically black churches have burned in less than two weeks in one south Louisiana parish, where officials said they had found "suspicious elements" in each case. The officials have not ruled out the possibility of arson, or the possibility that the fires are related.
"There is clearly something happening in this community," State Fire Marshal H. Browning said in a statement on Thursday. "That is why it is imperative that the citizens of this community be part of our effort to figure out what it is."
The three fires occurred on March 26, Tuesday and Thursday in St. Landry Parish, north of Lafayette. A fourth fire, a small blaze that officials said was "intentionally set," was reported on Sunday at a predominantly black church in Caddo Parish, about a three-hour drive north.
"But just as we haven't connected the three in St. Landry, we haven't connected the one in Caddo," said Ashley Rodrigue, a spokeswoman for the Louisiana Office of State Fire Marshal, on Friday.
Local officials said that they were still investigating the fires, and did not say if they knew of any suspects, a motive, or whether racism was an element.
"There certainly is a commonality, and whether that leads to a person or persons or groups, we just don't know," Mr. Browning said at a news conference on Thursday.
The F.B.I. and federal Bureau of Alcohol, Tobacco, Firearms and Explosives are involved in the investigation, said Jeff Nowakowski, a spokesman for the A.T.F.'s New Orleans field division.
The Rev. Gerald Toussaint, pastor at Mount Pleasant Baptist Church in Opelousas, La., was driving to work on Thursday morning at around 4:45 a.m. when his wife called him to say she had seen on social media that their church was ablaze.
Mr. Toussaint was aware of the two other fires that had been set at nearby houses of worship, St. Mary Baptist Church in Port Barre, and Greater Union Baptist Church in Opelousas. He rushed to the scene.
The church, which was founded in the 19th century, had undergone extensive remodeling two years ago. Now it is nearly gone, he said, except for a brick wall and corridor in the front.
"I'm trying to find out who did it, why they did it, did it have anything to do with me," said Mr. Toussaint, who drives trucks for a living. "I don't know none of this."
He also said he did not want to speculate, for fear of angering potential arsonists, or prompting copycat crimes.
St. Landry Parish is a rural area studded with crawfish ponds and bayous in the heart of Cajun and Creole country. It is 56 percent white and 41 percent black. Mr. Toussaint said that relations were generally good between black and white residents.
Since the 1950s, black churches across the South have been the targets of numerous racist attacks, from arson to bombing to armed assault. In 2015, a white supremacist shot and killed nine people at a Bible study at an African-American church in Charleston, S.C.
In 2006, a string of arsons at Alabama churches, some predominantly white, some predominantly black, proved to be the work of three college students that officials characterized as a "joke" that had spun out of control.
Last month, a black member of a predominantly black congregation, Hopewell Missionary Baptist Church in Greenville, Miss., pleaded guilty to burning his church. The church was spray-painted with the words "Vote Trump" in an effort to make the attack seem politically motivated, a Mississippi official said.
At the news conference Thursday, Sheriff Bobby Guidroz of St. Landry Parish said that law enforcement officials would do "whatever it takes" to protect churches and churchgoers.
"We're doing everything we can, collectively, to solve this crime," he said.